We offer International Baccalaureate Diploma Programme at NTSIS High School.
Nantong Stalford International School introduces an academically challenging and personally enriching High School curriculum, providing a dynamic welcoming and holistic learning environment. This propels students to the highest academic achievement possible, motivating them to soak up a wide range of knowledge while maintaining their natural sense of creativity and curiosity, and equipping them with the capabilities to grasp all opportunities in their present, further studies and career.
For this, NTSIS adopts International Baccalaureate Diploma Programme (IBDP) authorized by International Baccalaureate Organization (IBO). The IBDP is offered to students aged 16 to 19, especially to those who wish to attend a top university almost anywhere in the world. IBDP composed of six subject groups. In addition to six academic subjects, the programme also includes three core requirements designed to help our students to achieve greater academic and personal development.
Six Subject Groups
1. Language and Literature
2. Language Acquisition
3. Individuals and Societies
4. Sciences
5. Mathematics
6. Art
Three Core Elements
1. Extended Essay
Students complete a research project and write a 4,000-word paper. The extended essay not only enables students to investigate subjects that interest them but also prepares them for the rigors of undergraduate research as they learn how to form a research question, support an argument and hone their communication skills.
2. Theory of Knowledge (TOK)
Students explore the nature of knowledge and how it is acquired. It invites students to reflect on what they already know and how they came to know it.
3. Creative Activity and Service (CAS)
Students participate in meaningful activities that encourage them to set goals, chart their progress and reflect and report on what they learned.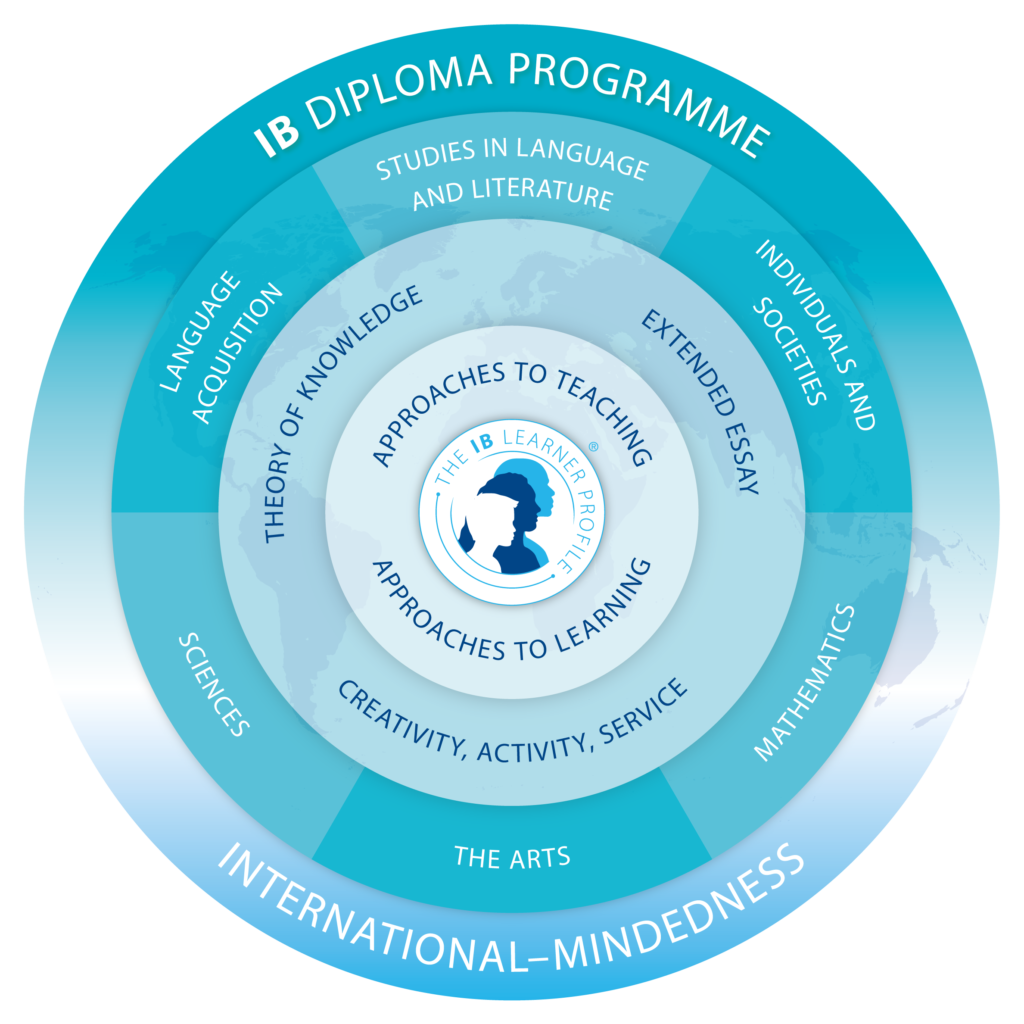 Approaches to Learning skills
Grounded in contemporary educational research, the curriculum focus on five Approaches to Learning guide. Approaches to Learning are deliberate strategies, skills and attitudes that result in more engaged students. It supports the belief that a large influence on a student's education is not only what you learn but also how you learn. The ATLs focus on teaching students how to learn and this has always been a part of the teaching at Stalford, and the IBDP Programme is providing more explicit support for teaching these skills.
The Approaches to Learning skills are as follows:
Thinking skills
Communications skills
Social skills
Self-management skills
Research skills
To ensure the Approaches to Learning are embedded into the learning culture they are supported by the Approaches to Teaching (ATT) that include pedagogical strategies that are:
Based on inquiry
Focused on conceptual understanding
Developed in local and global contexts
Focused on effective teamwork and collaboration
Differentiated to meet the needs of all learners
Informed by formative and summative assessment.
University recognition
Upon completing the course and external examinations, students are awarded certificate in IBDP. This certificate open doors to world-top universities in all Commonwealth, European, North-American countries, Singapore as well as Hong Kong, China and any of the over 100 countries and it enables students to gain entrance to the most competitive universities around the world where admissions recognise the academic rigor of the IB. Universities look favourably upon IB Diploma students as the curriculum model develops a balanced variety of skills, including 'cognitive skills' such as analysing and synthesising data and being able to partake in critical thinking with intellectual thought and insight.
With Stalford education's reputation of producing strong results, historically many graduates matriculate to world top 30 universities including National University of Singapore and Nanyang Technological University and most to world top 100 universities including Hong Kong University, New York University Shanghai, and University of Nottingham Ningbo China. NTSIS was the first school in Nantong to offer the IB Programmes, and has been offering most extensive IB Programmes to students in Nantong China since 2015.